2018 Woman of Distinction Honoree Luncheon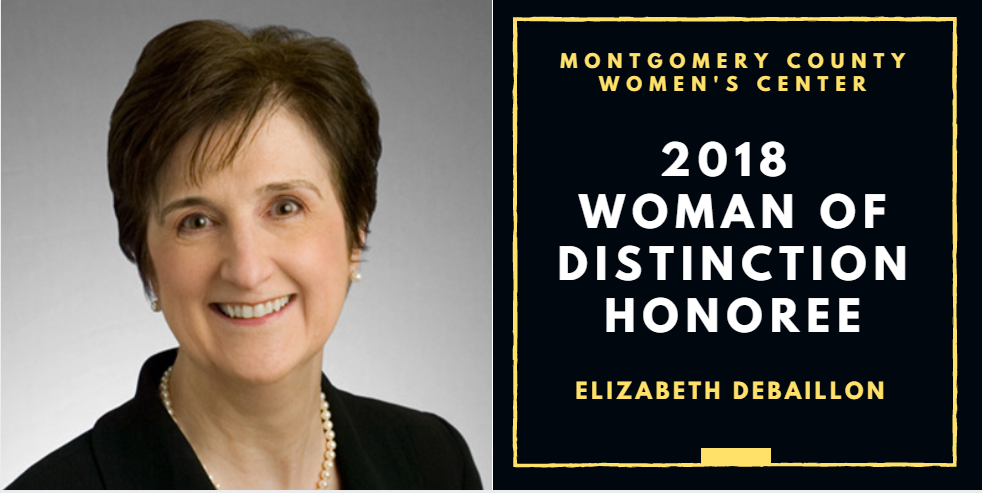 The Montgomery County Women's Center is proud to honor Elizabeth Debaillon as the 2018 Woman of Distinction. She gives tirelessly to help improve the lives of others. Thank you, Liz, for all of the time and effort you share with us!
For more information about the luncheon and where to purchase your ticket, please see below.
Elizabeth Debaillon was born and raised in Lafayette, Louisiana. After finishing her undergrad degree at LSU, Liz moved to Houston where she began her professional career. She served in multiple capacities in the Human Resources field for thirteen (13) years before advancing her education. While working full-time at SpawGlass Construction Corp., Liz attended night classes at South Texas College of Law. After receiving her law license November 1989, she worked as in-house counsel for SpawGlass before joining the law firm of Cokinos Bosien & Young September 1990. Her unique combination of legal expertise and employment/HR experience made her an invaluable resource to clients. Liz focused her practice on construction law, construction contract negotiations, drafting of construction contracts, mechanic's and materialman's lien issues, labor and employment law and general commercial disputes. She remained with the Cokinos firm until her retirement September 2016. She was admitted to the State Bar of Texas as well as the United States District Court: Eastern, Northern, Southern and Western Districts of Texas. Liz was recognized by her peers and received the distinction of the highest rating possible by the Martindale-Hubbell peer review. After retiring from the practice of law, she and her husband moved full-time to Montgomery where they reside on Lake Conroe.
Q&A With Elizabeth Debaillon
How long have you been volunteering for MCWC?
"I began volunteering at MCWC late 2016 shortly after I retired."
What sort of projects have you worked on?
"I have worked on multiple projects such as Shelter Santa, Share Family, and Hurricane Harvey clothing donations. The largest project is the ongoing reorganization of the shelter donation room. New shelving was installed. We are sorting, organizing and storing clothes in see through containers for easy retrieval. The reorganization includes all items used throughout the shelter such as linens, bedding, toiletries, infant needs, etc. "
What is something you love about working with our agency?
"All employees and other volunteers are truly dedicated to the needs of the Center and its clients. There is such a need for the services provided."
What is something you have learned by volunteering in the field of domestic violence, that you would like people to know?
"My husband ran the Forensic Nursing program at Memorial Hermann for approximately 10 years. Consequently, I am very familiar with the problem and the aftermath domestic violence leaves in its wake. Domestic violence happens at all socioeconomic levels and in all age groups."
Please Join Us
2018 Women of Distinction Luncheon
Friday, May 4, 2018
The Woodlands Waterway Marriott Hotel and Convention Center
10:30 am Silent Auction//11:00 am Luncheon
Ticket Information
Tickets are $60.00
You may purchase online at www.mcwctx.org
(click the DONATE button to take you to the correct link)
or send a check payable to MCWC
Please RSVP to Deana Germany by April 28th
deanag@mcwctx.org or 936-441-4044 ext. 29
*If purchasing more than one ticket please let Deana know the names of your guests.