Something Special Resale Store
SHOP TO HELP IMPROVE THE LIVES OF VICTIMS & SURVIVORS OF DOMESTIC VIOLENCE AND SEXUAL ASSAULT
Shelter residents and their children receive shoes and clothing since these items are generally left behind when fleeing.
Transitional housing apartments are completely furnished with donated furniture and housewares for new residents.
Shelter residents receive furniture and household items when re-building their homes and lives.
Revenue from the store helps keep the shelter open.

The Montgomery County Women's Center could not continue to serve and support survey without your donations of time, talents, and financial gifts. Many clients come to our shelter with nothing but the clothes in their back. By donating tangible items, you can provide women and children with what they need to rebuild their lives free from abuse and fear. We accept a wide variety of donations. Clean, usable household items including furniture, dishes, and clothing can be used. Please donate items that are in good working condition. When we receive items that are broken, torn damaged or stained, we must dispose of them, this raises our expenses and reduces the revenue available to help those we serve.
Donations
We live in a community of very giving families and we always need more merchandise.  Please clean out those closets, straighten up the garage, and buy that new couch!
We will gratefully accept your donated items!
Just drive around to the back of the store and a staff member will gladly unload your donations and offer a receipt for tax purposes.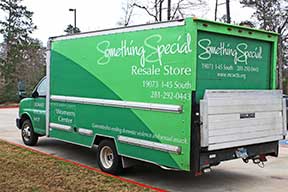 Schedule a Pick-Up
If you have large items or furniture to donate, call 936-441-4044, ext.49 to and we will come to you!
**Some restrictions may apply.
Shopping and Donation Hours and Location
Monday – Saturday 9:00 a.m. – 6:00 p.m.
19073 I-45 South (in the Portofino Plaza next to Sam's Club)
Phone: 281-292-0443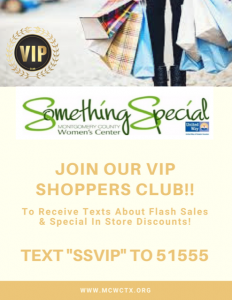 Join our VIP Shoppers Club!!
MCWC has started a VIP SHOPPERS CLUB for Something Special- our Resale Shop‼️
Text "SSVIP" to 51555 and get special sale in sent straight to your phone!!!
By being a member of the VIP SHOPPERS CLUB you will receive:
– Texts about FLASH SALES‼️
– Texts about SPECIAL IN STORE DISCOUNTS‼️