Something Special Resale Store
Shop to help improve the lives of victims of family and sexual violence
Shelter residents and their children receive shoes and clothing since these items are generally left behind when fleeing.
Transitional housing apartments are completely furnished with donated furniture and housewares for new residents.
Shelter residents receive furniture and household items when re-building their homes and lives.
Revenue from the store helps keep the shelter open.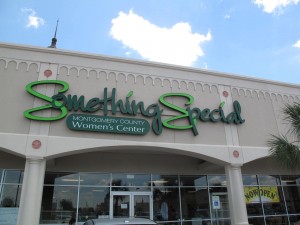 What treasures will you find at Something Special?
Accessories
Baby Clothing
Books
Bridal Gowns
Clothing
Collectibles
Decorator Accessories
Furniture
Housewares
Jewelry
Linens
Men's Suits
Prom Dresses
Purses
Seasonal Items
Shoes
Sporting Equipment
and more….
Donations
We live in a community of very giving families and we always need more merchandise.  Please clean out those closets, straighten up the garage, and buy that new couch!
We will gratefully accept your donated items!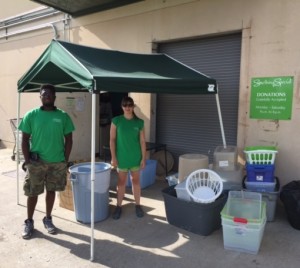 Just drive around to the back of the store and a staff member will gladly unload your donations and offer a receipt for tax purposes.
Schedule a Pick-Up
If you have large items or furniture to donate, call 936-441-4044, ext.49 to and we will come to you!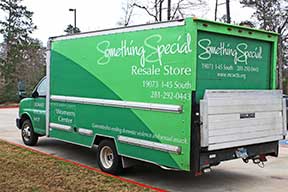 Shopping and Donation Hours and Location
Monday – Saturday 9:00 a.m. – 6:00 p.m. 19073 I-45 South (in the Portofino Plaza next to Sam's Club) Phone: 281-292-0443
New Years Eve Dec 31  (9am-1pm)
New Years Day Jan 1 (CLOSED)
Join our VIP Shoppers Club!!
MCWC has started a VIP SHOPPERS CLUB for Something Special- our Resale Shop‼️
Text "SSVIP" to 51555 and get special sale in sent straight to your phone!!!
By being a member of the VIP SHOPPERS CLUB you will receive:
– Texts about FLASH SALES‼️
– Texts about SPECIAL IN STORE DISCOUNTS‼️
– Extra discount for your birthday month‼️