Support Us – Donate Online
Why Donate
Family violence costs the nation between $5 billion and $10 billion annually in medical expenses, police and court costs, shelter and foster care, sick leave and loss of productivity.
When you support Montgomery County Womens' Center you not only provide victims of domestic violence and their children with supportive services, you provide these families with the tools to build a new life. A life that is healthy, successful and free of violence. Montgomery County Women's Center is essential to improving the quality of life in Montgomery County, providing the services necessary to rebuild lives violence, self-sufficient and empowered individuals.
Urgent Needs
MY DONATION IS FOR
URGENT & IMMEDIATE NEEDS
My donation is to be used wherever there is a need.
DONATE NOW
The Montgomery County Women's Center has been committed for many years to providing a 24-hour hotline, safe shelter, crisis intervention, counseling, advocacy and legal services to survivors of family violence, sexual assault and stalking. Your support assists us in continuing to provide these services at no cost to the clients and their families.
WHAT YOUR FINANCIAL GIFT CAN DO…
$100.00 donation provides a one-hour classroom presentation to educate youth about issues related to dating violence, sexual harassment, sexual assault and bullying.
$250.00 donation provides a weeks' worth of Shelter transportation for clients.
$350.00 donation covers the cost of our 24/7 crisis hotline operation for one day.
$500.00 donation provides birthday parties and gifts for 15 children throughout the year at our Shelter.
$750.00 donation provides the legal funding needed to file a PROTECTIVE ORDER for a victim.
$1,000.00 donation provides one month of counseling for a domestic violence survivor.
$1,500.00 donation helps equip children and teens living at our shelter with the technology and school supplies they need to be successful in online learning.
You can choose any amount to donate to our organization.
Fund a Family at our Shelter, including meals, transportation, counseling and life skills.
Donate Goods
The Montgomery County Women's Center could not continue to serve and support survey without your donations of time, talents, and financial gifts. Many clients come to our shelter with nothing but the clothes in their back. By donating tangible items, you can provide women and children with what they need to rebuild their lives free from abuse and fear.
We accept a wide variety of donations. Clean, usable household items including furniture, dishes, and clothing can be used. Please donate items that are in good working condition. When we receive items that are broken, torn damaged or stained, we must dispose of them, this raises our expenses and reduces the revenue available to help those we serve.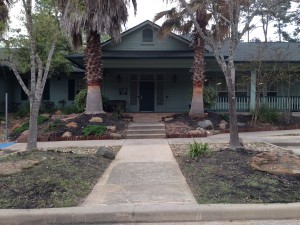 It takes monumental effort to maintain a safe and healthy living environment in the shelter. You may drop off donations to any of our locations and request that the items be sent to the shelter. The shelter greatly benefits from all donations.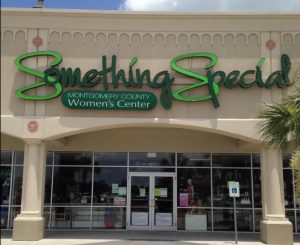 Donations to Something
Special Store
The donations and revenue from shoppers like you help keep our doors open. We also set aside clothing, housewares, and furniture for the transitional housing residents and the shelter residents who are building new households.
Two Drop Off Locations for Donations
MCWC Business Office
1401 Airport Rd
Conroe, TX 77301
Monday – Friday: 8am-5pm
**If dropping off outside of business hours, please leave your donation on the porch.
Something Special Store
19073 1-45 South
Shenandoah, TX 77385
Monday – Saturday: 9am-6pm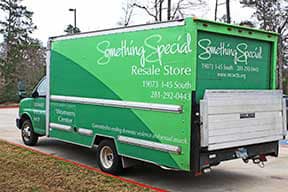 If you have large items or furniture to donate, call 936-441-4044, ext. 53 to schedule a pickup. We can come to you!
*Restrictions apply*
Needs List
Umbrella Strollers

Toddler Beds

Portable Cribs

Ladies Clothing (All Sizes)

Sports Bras (All Sizes)

Leggings (All Sizes)

Ladies PJ Sets & Bottoms

Clear Plastic Bins with Lids (58QT)

Full Size Toiletries

Quart & Gallon Baggies

Grocery Bags (Plastic & Paper)

Reusable Tote Bags

Toilet Paper & Paper Towels

Antibiotic Cream/Neosporin

Tylenol/Motrin

Lysol Spray
AmazonSmile is a way customers can support their favorite charitable organization every time they shop with Amazon, at no additional cost.
How to use AmazonSmile on a web browser:
1. Visit smile.amazon.com

2. Sign in with the same account you use for Amazon.com

3. Select your charity

4. Start shopping! Remember to check out at smile.amazon.com to generate donations for your chosen charity.
***NOTE: You MUST shop at smile.amazon.com for this to work. Add a bookmark to your browser or phone to make this easier.
How to use AmazonSmile using the Amazon app on your mobile phone:
1. Open the Amazon Shopping app

2. Navigate to the main menu (≡)

3. Tap on Settings and then select "AmazonSmile"

4. Select your charity and then follow the on-screen instructions to turn ON AmazonSmile in the mobile app
Once AmazonSmile has been activated in your app, future eligible app purchases will generate a donation for the charity you have selected.
***NOTE: You MUST shop at smile.amazon.com for this to work. Add a bookmark to your browser or phone to make this easier.
Kroger Community Rewards®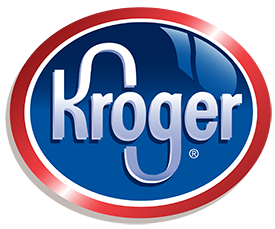 Kroger makes fundraising easy through their Kroger Community Rewards® program…all you have to do is shop at Kroger and swipe your Plus Card!
Kroger has added the Montgomery County Women's Center to its list of community partners, so we strongly urge all of you to register your Kroger Plus Card to donate to us.
Here are the easy steps to follow:
Click on "Create an Account" and follow the instructions.

Once you have entered your information you will get a message asking you to check your email inbox.

Click on the link in the email received to activate your Kroger account.
Already have a Kroger.com account?
Sign in and click on "View Your Rewards Details".

Enter Montgomery County Women's Center and click "save".
Once you are linked, you can start earning rewards immediately for the organization you are supporting. (Note: A message saying you are supporting MCWC through the Kroger Community Rewards program will start printing on your receipt about 10 business days after your card is linked.)
You must link your card every year, starting August 1st, to support the organization of your choice. MCWC is #84165