Help Us Win $100,000!!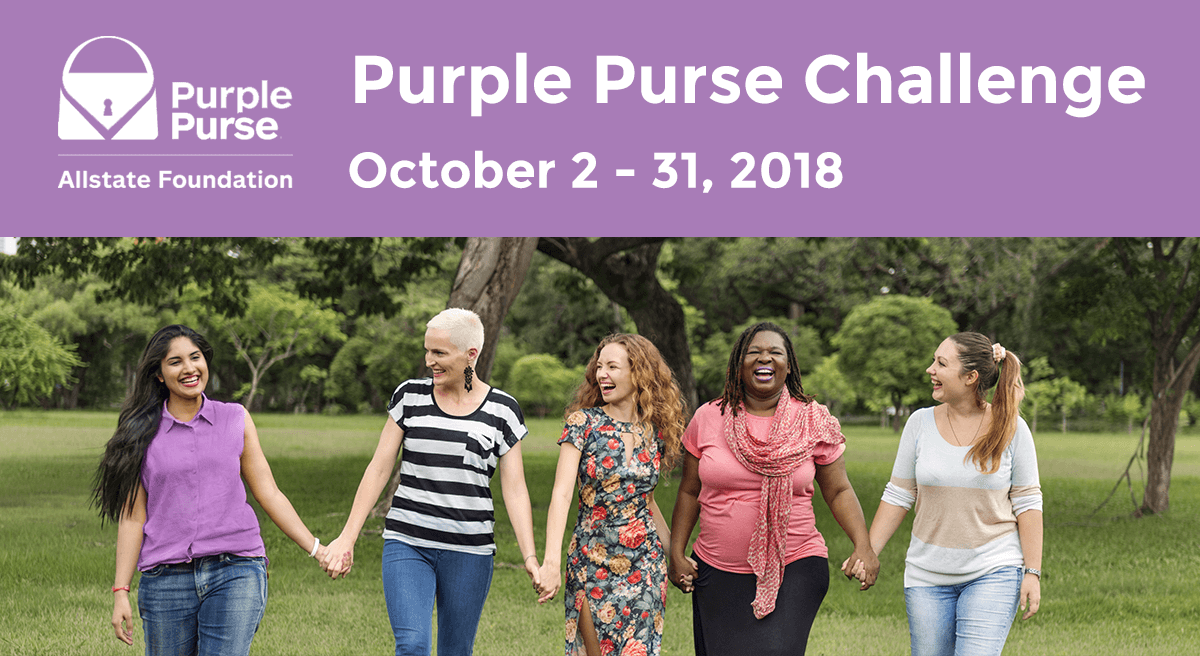 What is the Purple Purse Challenge?
The Purple Purse Challenge involves 300 community partners "working together to create an open dialogue about domestic violence and financial abuse." The Allstate Foundation invited "national, state and local nonprofit and charitable organizations" to apply to participate in the Challenge. The purpose of the challenge is to help raise funds for organizations, including Montgomery County Women's Center, with programs that are "focused on providing financial empowerment services benefiting domestic violence survivors."
From October 2, 2018 (noon) to October 31, 2018 (1:59pm) Montgomery County Women's Center will compete with other charities across the nation to raise the most money; the top teams will receive grand prize cash donations from Allstate to support their organization's mission. To join our fundraising team, please CLICK HERE. Once you reach our team page, click on the "Join The Team" button. If you have any questions, please email melaniej@mcwctx.org .
Why we are participating in the Purple Purse Challenge?
Our Mission is to lead the effort in preventing domestic violence and sexual assault through crisis intervention, assistance, advocacy, empowerment and social change.
♦ Financial control (aka financial abuse) occurs in 98% of all domestic violence cases.  Visit the Purple Purse website to learn more about financial abuse; "Financial abuse is just as effective in controlling a victim as a lock and key."
♦ Montgomery County Women's Center helps our clients obtain employment, retain their job, and regain control of their financial situation.
♦ Finding and maintaining employment is a key part to a domestic violence survivor's ability to regain her economic independence.
How Can You Be Involved?
Become a Team Fundraiser: It's easy: Click Here to go to our team page and click on the "Fundraise for this community partner" button. After you create your fundraising page in preparation for the October 2nd Purple Purse Challenge kickoff, tell your story about why you are participating! Then, on October 2nd, the challenge begins! Email melaniej@mcwctx.org if you have any questions, and we'll help you get started!
Feel free to use information on this page to assist you in your fundraising efforts. You can add videos to your fundraising page as well as use them on social media.
Reach Out to Your Network & Beyond: Encourage your friends, family, coworkers and associates to join our campaign this October 2-31 to raise funds and awareness as Team Fundraisers, donors, educators, activists, and supporters. Reach out on social media sites to increase awareness. Feel free to repost content from our social media sites and website.
Host a "Party With A Purpose" During October, invite friends to your home for an event such as a house party, movie night, or jewelry party (let us know if you need ideas), and have a "free will" donation or a set donation fee* for your event. Let attendees know that you're raising funds for Montgomery County Women's Center to help domestic violence survivors obtain employment in order to reach self-sufficiency and gain financial independence. Perhaps show a video highlighting domestic violence, or have arrange for a speaker to lead a conversation about domestic violence. Click here to Join Our Fundraising Team. You can also request a copy of our House Party Toolkit by emailing melaniej@mcwctx.org. We are here to help!
Other FUNdraising Ideas
Email melaniej@mcwctx.org to receive the TOOLKIT designed for your fundraiser idea!
Schools/ Businesses: Duct Tape Challenge
Businesses: Team Spirit Day Fundraiser
Businesses: Denim Day Fundraiser
Individual/ School/ Business: Bake Sale
Individual/ School: Car Wash
Individual/ School: Rummage/ Garage Sale
*IMPORTANT INFORMATION: Donations meant to count towards the Purple Purse Challenge must be made through the CrowdRise platform in order to count towards the Montgomery County Women's Center Challenge Total. (For the party for a cause, a single donation of the funds raised is fine). Making donations through the purple purse Challenge increases our organization's chances of obtaining additional cash prizes to support programs that help domestic violence survivors in Montgomery County obtain employment and financial independence.
Why Focus On Domestic Violence?
Right now, think of 5 people you know, friends, family or coworkers.  According to the 2014 Domestic Violence and Financial Abuse Survey commissioned by the Allstate Foundation, 3 in 5 Americans know someone who has been the victim of abuse. Think of 4 women you care about, mother, sibling, friend or coworker. In the U.S., 1 in 4 women report experiencing domestic violence in her lifetime.
At Montgomery County Women's Center, in 2015, 40% of our clients report that they have experienced financial abuse.
How Does Montgomery County Women's Center Impact Your Community?
♦ Insert program stats from year-end report
We are #ChangingLives in Montgomery County and BEYOND!
Introducing Purple Purse Ambassador, Serena Williams.
Purple Purse is teaming up with tennis champion, entrepreneur and philanthropist Serena Williams to raise awareness for the often invisible role financial abuse plays in trapping victims in harmful relationships. To help spread the word and raise funds, Serena designs an exclusive purple purse each year that will be used by nonprofits affiliated with Purple Purse for fundraising.
"Standing up for women's rights has long been a passion of mine. I hope people will join the Purple Purse movement and work with us to end abuse against women." —Serena Williams
More Resources
Allstate Foundation Purple Purse new research reveals staggering gap between public concern and action on domestic violence. Learn more here: https://www.purplepurse.com/resources/purplepurse/attachments/allstate-foundation-purplepurse-fact-sheet.pdf