June Book Club- "Speak"
Please join us for our first ever BOOK CLUB, this June, where we will be reading "SPEAK".  We will hold an in person Book Club Wrap Up Event on JUNE 27th (6:00-7:30pm) for those of you who are in Montgomery County area (location TBA). You can also join our Facebook Group where we will be checking in with the group weekly. Click here to join: https://www.facebook.com/groups/587965681587339/
The book club will begin June 1st. So please pick up your books as soon as possible.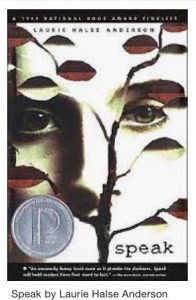 Speak, published in 1999, is a young adult novel by Laurie Halse Anderson that tells the story of high school freshman Melinda Sordino. After accidentally busting an end-of-summer party due to an unnamed incident, Melinda is ostracized by her peers because she will not say why she called the police. Unable to verbalize what happened, Melinda nearly stops speaking altogether,expressing her voice through the art she produces for Mr. Freeman's class. This expression slowly helps Melinda acknowledge what happened, face her problems, and recreate her identity.
**Note: This book reflects incidence of sexual assault.