13 Reasons Why Weekly Screening & Discussion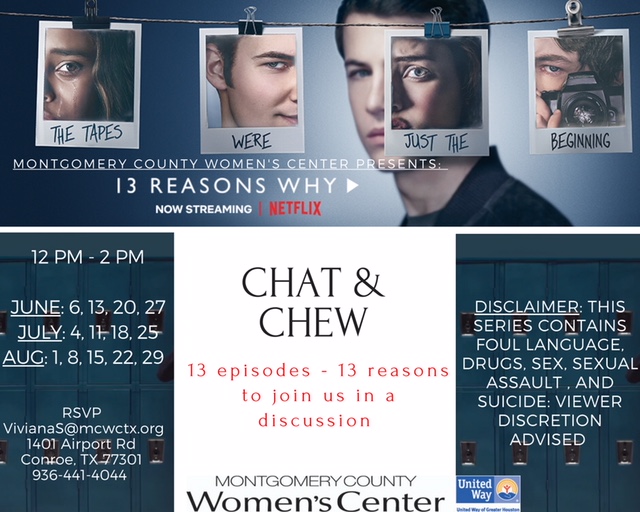 Join Us For Season 2- Weekly Screening & Discussion!!!
13 REASONS WHY is a fictional series that tackles tough, real world issues taking a look at sexual assault, substance abuse, suicide, & more. By shining light to these difficult topics the goal is to help viewers start the conversation. MCWC invites all parents, teens, and staff working with youth to join us weekly.
So grab your lunch and join us at the MCWC Business Office located at 1401 Airport Rd, Conroe TX 77301.
Those who we suggest attend: teens, parents, teachers, counselors, etc.
This is a great way for parents to screen the series and be a part of a professionally led conversation about the content. They can create a game plan for watching the program and talking about it with their kids at a later time.
Questions/Contact: Viviana (VivianaS@mcwctx.org) (936-441-4044)
* You do not have to commit to weekly attendance but it will be helpful to be caught up on the series when you attend.
Viewing Schedule:
June 6- Episode 1
June 13- Episode 2
June 20- Episode 3
June 27- Episode 4
July 4- Episode 5
July 11-Episode 6
July 18-Episode 7
July 25-Episode 8
Aug 1- Episode 9
Aug 8- Episode 10
Aug 15- Episode 11
Aug 22- Episode 12
Aug 29- Episode 13