Free Workshop- May 26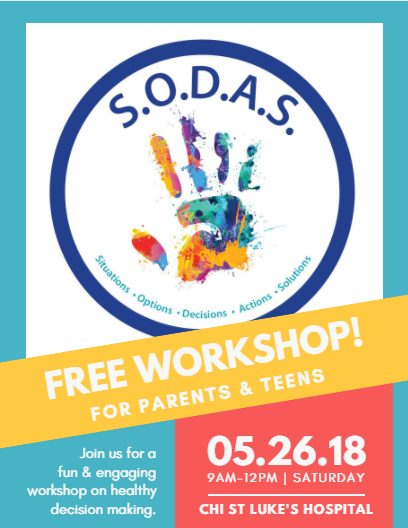 WORKSHOP: WHERE DO YOU STAND??
This fun and interactive workshop for those who live with & work with middle school and high school aged teens. We will take a look at the types of challenges we face in life and how to better cope with them. Through a series of activities and discussions participants will examine scenarios that teens face, learn to assess the situation at hand, find allies, dig deep for personal strengths, see all possible outcomes and choose the best route to take.
The SODAS method helps youth think clearly and make decisions based on sound reasoning rather than external pressures or spur-of-the-moment feelings. SODAS is a decision-making strategy that can help children and parents make decisions together and help youth make good decisions on their own. SODAS works best when youth are taught to look at the "big picture" when they're facing a problem or decision. Asking who, what, where, when, why and how questions will help the teen clearly define the problem. Practicing this method will help them avoid the trap of making a decision based solely on emotions.
Who Can Attend: Parents, Teachers, Counselors, & Agency Staff!! Bring your TEENS!!
SATURDAY May 26th (9:00 AM- 12:00 PM)
CHI St. Luke's Health–The Woodlands Hospital
17200 St Luke's Way, The Woodlands, TX 77384
CONFERENCE ROOM 1
LUNCH WILL BE PROVIDED
RSVP: https://www.eventbrite.com/e/where-do-you-stand-free-parent-teen-workshop-tickets-42529498876